AFFF Lawsuit Loans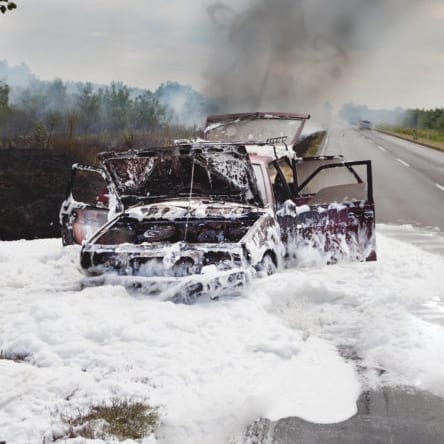 Are you looking for a AFFF lawsuit loan? Sometimes AFFF is referred to as firefighting foam or aqueous film forming foam. Many have developed health issues due to the use of AFFF. When originally introduced aqueous film forming foam was used to help create a sort of blanket that smothers fires and preventing the fire getting the oxygen that is needed to fuel it. It is usually made with PFOS or also know as perfluoroocatanesulfonic acid and it is also made with PFAS or also know as per and polyfluoroalkyl substances. Some of these chemicals are know as "forever chemicals" because the are made of atom chains that break down very slowly inn nature and have been shown to contaminate groundwater, surface water and soil. Both of these products are known for adverse health effects from exposure. That is why Verum Funding is now has the ability to get those in need and supply relief with AFFF Lawsuit Loans.
AFFF Health Effects & The Science
Lundin et al. (7) has found some suggestive positive trends with the internal exposure analyses for pancreatic cancer, diabetes, prostate cancer, and stroke.
Harvard and Berkeley studies have found that the fire fighting foam was containing fluorinated chemicals that were contaminating the drinking water in areas around industrial sites, military bases, and airports.
Indiana University conducted a review of PFAS and that review of the 26 fluorinated chemicals were all found to display at least one characteristic of known human carcinogens.
Cancers & Injuries Linked to AFFF Firefighting Foam
Prostate cancer
Bladder cancer
Testicular cancer
Kidney cancer
leukemia
Neuroendocrine Tumors
Breast cancer
Lymphoma
Chronic kidney disease
Infertility
Acute kidney failure
Death
Occupations for High Risk AFFF Exposure
Those involved with working directly with AFFF and are considered to have the highest risk of exposure include.
Airport workers
Firefighters
Plant workers
Military members or employees
Residents living in areas near the use of AFFF use or disposal
How Can An AFFF Lawsuit Loans Help?
The AFFF lawsuit loans can help many who are waiting on their lawsuits to be resolved. It can be used for many different needs including but not limited to car payments, rent and or mortgage payments, groceries, legal bills, medical bills, and even utilities. The best part about the AFFF lawsuit loans is that they are non recourse, that means if you are not successful in your lawsuit you do not have to pay the loan back.
AFFF Lawsuit Loans and Verum Funding, Can They Work With My Attorney?
Verum Funding works with law firms across the country that work with, represent, and counsel people throughout the country in personal injury and death due to aqueous film forming foam exposure. This network of highly experienced and skilled attorneys intend to hold the makers of aqueous film forming foam who include but are not limited to 3M, Tyco, Chemguard, and Dupont accountable for what they have done to those exposed and have suffered negative side affects. If you are looking for a AFFF attorney we can refer one to you!
Let Verum Help With Your AFFF Lawsuit Loans Needs
If you or a loved one was exposed to AFFF, diagnosed with breast cancer, pancreatic cancer, kidney cancer, prostate cancer, leukemia, or many other bad side affects, and have an attorney with a lawsuit filed. Then all you need to do is contact us. It can be hard to hold out while some of these big companies can spend millions on their legal defense. With using Verum Funding it can help hold out for the settlement that you deserve and help with the financial difficulties while dealing with the case. If you are looking at AFFF Lawsuit Loans or if you are in need of a AFFF attorney referral then fill out our simple online application on this page, email us at help@verumfunding.com, or you can call us at 434-535-5229.
Verum Funding and AFFF lawsuit loans, helping those in need with pre-settlement funding!